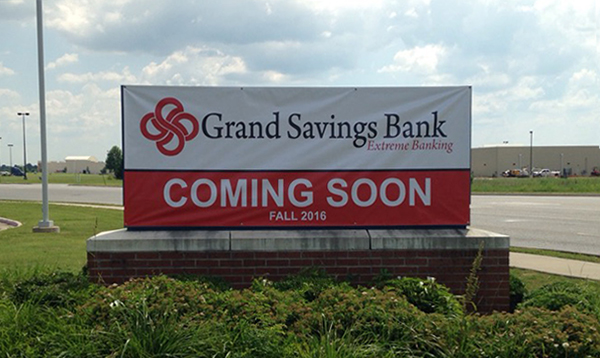 Banners are excellent choices for getting noticed inside a building and outside. You can get them in lighter weights and they're durable. Ounce for ounce, you get a lot of bang for your buck by choosing to use a banner to announce that your business is coming soon, that there's an upcoming event, or even displaying who your event sponsors are.
At Best Sign Group, we sell banners you can use indoors and out. For either usage, following are recommendations to make the most of your banner.
Hang it, tie it, or carry it in a parade. No matter how you're planning to use the banner, there are ways to protect your purchase.
Let the Wind Run Through It
If you're installing a banner to be free-hanging where it isn't backed by a wall, you'll want wind slits. These semi-circular cuts in the material allow the wind to pass through without putting stress on the banner. However, it's not a perfect science. Banners can rip in heavy wind (a factor that can't be controlled or predicted), so consider that when you're hanging them outdoors.

Stretching with Bungee Cords
When it comes to actually hanging the banner, use solid rubber bungee cords. Fabric cords, rope, and other materials tend to stretch out due to tension and can result in a sagging banner. Don't worry: we'll add enough grommets to your banner to make it so that you can have several points of tension. What's a grommet? This is a hole we punch in the hem of a banner that you can thread a cord or tie through, and the hole is protected with a smooth aluminum rim that prevents fraying and also protects the banner material itself.
If you're stretching the banner between t-posts, zip ties or bungee cords are recommended since they are stable and won't lose tension.
It Matters to Hem
We add hems to make the edges smooth and attractive on either single- or double-sided banners.
Got a parade coming up and you'd like to carry a banner that represents your organization? We can hem loops in the banner so you can insert a dowel rod, which makes it easier to carry if it's wide and adds some stability. We'd recommend at least a 3'x8′ for parades, as this will help maximize your visibility.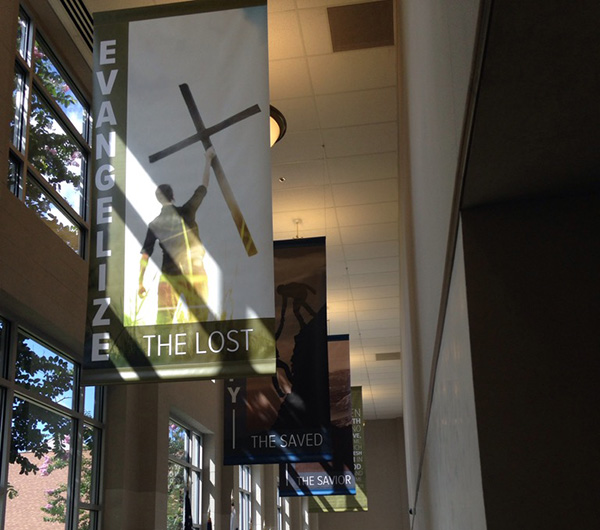 If you'd like to hang your banner from a ceiling, we can add "pole pockets". We insert a dowel rod in the hemmed loop. This keeps a flat and smooth appearance for the banner, and also helps prevent it from being moved about by air flow from HVAC systems.
Roll It Up
Not using your banner at the moment, but want to in the future? Roll it, don't fold it. Folding a banner can leave creases and make it a mess to look at it when you fetch it from storage to use again. Instead of folding it, roll it up with the printed side facing in, not out (this will protect the ink from fading). Storing it in a dry, dark area can also protect the overall material and help extend its life.
On a side note: suppose you unroll your banner to find out you had a date, or perhaps some text, that is no longer valid. We can often apply vinyl patches to the surface of the banner to hide or replace text. This is often more economical than reprinting an entire banner.
Banners are smart investments for use indoors and out. Their durability, light weight, and adaptability for hanging make them strong solutions for a variety of applications.