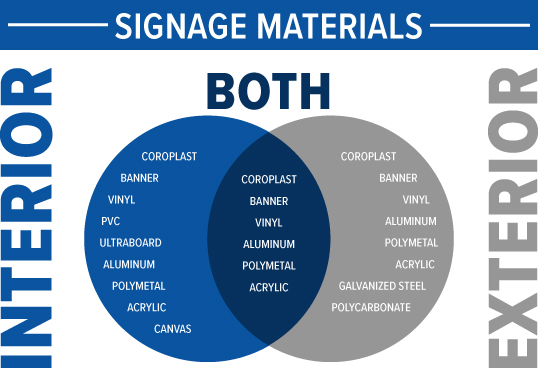 The graphic above demonstrates just a few of the sign materials we sell and where they are best used. Of course, there are all types of applications for the various materials, but it's important to understand why you'd want to use some of the materials indoors versus outdoors.
PVC is a rigid, but smooth, material – one of many – that we recommend for interior displays. We've used it for flat cut-out letters and for prints to be hung on walls. However, PVC is never appropriate for use outdoors. Temperatures above 80F and direct sunlight will cause the material to severely warp. There are few things worse than seeing something you purchase become irreparably broken. So if you come to Best Sign Group asking for a PVC sign to post outdoors, you'll get a brief education from us on why that is not a good idea.
For similar reasons, ultraboard – which has PVC veneers sandwiching a foam core – should not be used outside, and the foam core itself is subject to degradation and intense wear from the elements.
So what should you use outside?
While there are several materials we can recommend for outdoor usage, these are some that are most commonly offered:
Coroplast – or you might call it a yard sign – is fabricated with outdoors use in mind. Realtors often use these signs to showcase that a home is for sale, or SOLD!
Banners – which can be used indoors and outdoors, can be displayed outside in a variety of ways. The material we use is sturdy and ideal for use outdoors. While we can't control mother nature, we can certainly offer materials which would resist some conditions that other materials would find too harsh.
Polymetal – you might hear us call it dibond. This is a thin aluminum sandwiching a pvc core. The aluminum veneer keeps the PVC core from warping. It is sturdy and lightweight, and can even be routed to custom shapes.
At Best Sign Group, we strongly value educating our customers to make the best choice possible for their signage needs. We want you to be glad you purchase a sign from us and that really means providing you the best type of material for your needs.
Contact us today if we can help you with any of your interior or exterior signage needs, or for graphic design services!