If you own a brick-and-mortar business, chances are you have space on your building for a sign.
As you may or may not know, not all signs are created equally. We have several options for building signs that range from high end to more economical. We're flexible and we can work with you to find a solution to fit your budget and get you noticed.
Here are some of our more common exterior signage options.
Channel Letters
Channel letters require a higher level of investment, but make for very stylish and versatile exterior signage. Following are the 4 types we sell:
Front Lit
These letters are internally lit with lights that shine out of the face. As far as mounting goes, they can be direct mounted to the wall or mounted on a raceway that is fixed to the wall.
Halo Lit
While these channel letters are also internally lit, the light shine out the back of the letter to create a halo-like glow. Most of the time, these letters have an aluminum face and are mounted to standoff from the wall.
Raceway Mounted, Front Lit
A raceway is an aluminum tube that holds the electrical wiring used to power illuminated channel letters. The channel letters are mounted to the raceway, which is then mounted to the wall. Because of this, the installation requires fewer holes in the building, which can be beneficial where landlords are concerned.
Front and Halo Lit 
These channel letters are internally lit with light illuminating from the face, as well as in the back, creating the previously mentioned halo effect. Generally, these are direct-mount only.
Cabinets
Less of an investment than channel letters, but of great quality and versatility, sign cabinets make a great solution when channel letters aren't in the budget. Sign "faces" are fabricated as part of the cabinet.
We most frequently use:
Flat Faces: This face is completely flat from edge to edge.

Pan & Embossed Faces: This face bevels inward at its edge. As such, the bulk of the sign face protrudes forward and gives it a sense of depth.
Routed & Backed Faces: Often, this approach includes an aluminum face where letters or graphics are cut out of it. That face is then backed with translucent acrylic. In some cases, push-through letters are installed in the cut-out areas. The cut-out areas permit illumination at night.
Standard-sized cabinets are more economical than channel letters in most cases. They also offer the benefit of fewer holes in the building for installation. Also, they are more flexible than channel letters in the sense that the cabinet can remain fixed to a building and the face can be replaced. This is particularly useful when there is a change in tenants.
Flat Cut-Out Letters (FCOs)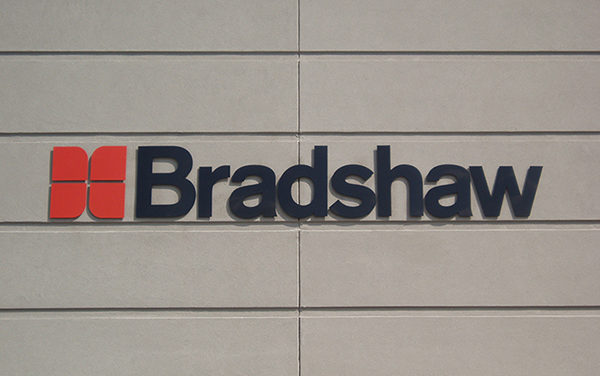 Often fabricated of either aluminum or acrylic, these letters come in stock colors or can be painted. In addition, these types of letters are typically a more economical solution than either channel letters or cabinets. Various thicknesses ranging from 1/4″ to 1.5″ and a variety of face-types for these letters make their level of customization appealing to customers. Speaking of customization, these letters can also be fabricated to fit certain custom fonts beyond the stock font offerings.
FCOs are not illuminated in the traditional sense, but external lighting with lamps or goosenecks can shed light on them in the nighttime hours.
Have a custom logo shape to accompany the letters? Generally, you can get a custom logo fabricated in the same style, thickness, and color as the FCOs themselves. This ability keeps your exterior building signage cohesive and visually attractive.
Dibond Panels
Dibond is actually a brand name for a material that as aluminum faces sandwiching a PVC core. It's sturdy, ideal for exterior use, and we can apply either standard cut vinyl or digitally printed vinyl to the surface. Custom shapes can be routed of it, or the original rectangular shape of the format can be used. This is the most economical solution among those listed here.
But you don't to sacrifice the visual appeal simply because it's the most economical solution. In some ways, it offers more flexibility for design since the individual elements on the panel are either printed or cut out of vinyl rather than fabricated as individual elements. Customers who desire very expressive designs find the dibond panel an appealing exterior signage solution.
Whether you're seeking to invest a lot or you're wanting an economical solution, we can work with you target a great design for your budget.
If you want an estimate or to talk to us about how to get noticed with your exterior building sign, contact us.