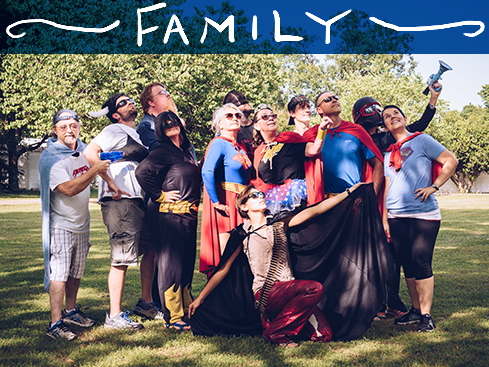 It's not uncommon that customers are surprised at what we offer for signage solutions. We've heard: "Oh, you make custom printed canvases?" or "Wow, look at the acrylic piece – we didn't know you did that." We're a sign company and that basic truth comes with all kinds of interpretations. Yard signs: yes. Road signs: yes. Channel letters: yes. Vinyl graphics: yes. We do all those, and much more.
It's the "more" where we land today.
Company culture has become something of a buzz-phrase (if you will) in the past decade. There is a clear upward trend in, and demand for, making your workplace fun, inviting, and hospitable for personal and professional growth. Somewhere along the way, we've realized that work doesn't have to equal drudgery. That's a great thing. Plus, individuals are now examining their skill sets at an even deeper level and are trying to position themselves in places where they can thrive. I believe this improves how businesses function at a fundamental level – the more invested folks are in what they're doing, the more likely they are to produce extraordinary results.
Which brings me to our company. We are more than what we seem to be.
When you walk through the front doors of Best Sign Group, you'll find a host of people here who are deeply connected to one another. You could no more fabricate this connection than you could make identical poles of a magnets come together of their own accord. What you'll find is a "family-owned and operated" business. No, not primarily family in the genetic sense – rather family in the way people use it when they develop relationships that go beyond saying: "Hey, that report needs to be on my desk by close of business or else" and sounds more like "I'm sorry your kids kept you up all night; how can I help with your workload today?" It's family in the sense of helping, serving, loving, and building up one another.
When I walked through the doors of Best Sign Group, no one could have prepared me for the level of love and investment I was about to receive. I would not have predicted that I would be hanging out with several of these folks on a personal basis quite frequently, that our lives would start to intertwine in a colorful and complex tapestry that is, honestly, not yet finished. Gasp! Imagine the overlap of personal and professional. Is that overlap not rife with pitfalls? Yet, somehow it works. And it has been working for quite a while.
We are a group of employees that has formed a series of relationships that are deeper and richer than mere acquaintances, co-workers, or associates. The story of Best Sign Group consists of the great loyalties and love that has been sewn into the fabric of this sign company's uncommonly loving culture. We invest in one another. We solve problems together. We laugh together. When hard times come (and they do come), we cry together. And all this improves how we greet the customers who walk through our doors, customers who are looking for solutions to their signage needs, who simply need help and maybe can't even articulate what they need.
When we're growing together as humans, we become better at serving humans. And isn't that WHY we're here? Not to simply sell signage and signage-related products, but to serve our community and our neighbors.